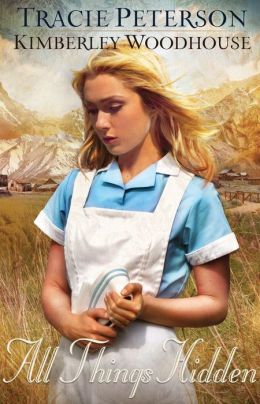 Tracie Peterson is one of my all-time favorite authors! I just finished her book All Things Hidden which is co-authored with Kimberly Woodhouse. The book is set in Alaska and based on historical facts with fiction thrown in. It is a great way to learn history while reading a great story.
Gwyn Hillerman is a nurse in Alaska who was raised by her doctor father after her mother and sister left them to go back to high society in Chicago.
Dr. Jeremiah Vaughn is an upcoming doctor in Chicago whose life is turned topsy turvy when a rich patient dies. He moves to Alaska to work with Gwyn's father in the Alaskan territory.
Read how Gwyn and Jeremiah fall in love through a very busy time in Alaska history, and what happens when a murderer and thief moves into the colony.
I would recommend this book to anyone, whether you are a teenager or a grandmother, you are going to love this book!
You can get the book either at your local Christian book store or online at various book selling sites. I guarantee you will love this book! I read it in three days because I could not put it down (even though I was supposed to be unpacking!)
What is a favorite book you have read lately?
Missy
(This book was sent to me by Bethany House publications for review, but this is my own words for the review)