I love chicken and dumplings! It is the only type of "soup" I can get my husband to eat. My good friend Cara first taught me how to make it about 14 or 15 years ago. Over the years I have adapted it. I have always used Bisquick for my dumplings, but the past couple of years I have been trying to find a healthy, from scratch alternative. I finally found one! My husband bought me a great new book.
I'm Just Here For More Food
-
baking
by Alton Brown.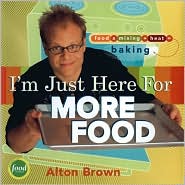 He takes the science behind the ingredients and explains why they work. I would recommend this book to everyone because it is much more then just a cookbook. I used his dumplings recipe with a tad alterations. I hope you enjoy!
Fill your pot (stock pot or dutch oven) with liquid, enough to cover your chicken. I used a box of organic chicken broth ($2 at HEB or Central Market) and the rest water. You can also use canned chicken stock, but it is probably full of msg and a bunch of other unhealthy stuff. You can use either a whole chicken or chicken breasts. I don't measure my spices, just add according to your taste. A couple of bay leaves, 3 cloves of pressed garlic, couple teaspoons of salt, ground sage, thyme and rosemary. Add diced carrots and celery. I make the dumplings while the chicken and vegetables are cooking. Be sure to use a slotted spoon ( I have a flat one I use) or some type of skimmer thingy to get the yuckies from the chicken floating on the top. You can also use a paper towel.
Dumplings
1 cup organic unbleached all-purpose flour
2 teaspoons baking powder
1/8 teaspoon baking soda
1/2 teaspoon salt
1 teaspoon sage
Whisk the dry ingredients together to aerate as you combine. If you use wheat flour be sure to sift it together.
Grate 1 1/2 tablespoons of frozen butter into the flour. Add 2 teaspoons lard. You'll want to mix it together the way you would a pie crust. You can use either a pastry cutter or your fingers to make it into a coarse-like texture. Add 1/2 cup chilled buttermilk ( I used soured milk) and mix thoroughly.
Remove chicken from broth and cut in small pieces.
I used my small scooper to drop the dumplings into the boiling broth. Make sure it is boiling or the dumplings will disintegrate. If you don't have a scooper you can roll the dough into about 12 small balls before dropping it into the broth. Cover and cook for 10 minutes over medium-low heat. You may need to lower the heat if it starts to over boil.
Add the chicken back to the broth to reheat it. Stir it gently in to prevent disintegrating the dumplings. Cook an additional five minutes uncovered.
Enjoy your comfort food!
Missy