I take a picture at the quilt shop during the demo I go to every month.
The above pictures are the pictures I took in class, aren't they nice? two days after posting this, I realized that I sewed my corners backwards! LOL
Then I look at the picture and lay out my pieces. This helps me understand the pattern better.
You do not back stitch when quilting, instead leave a little tail between each piece. This was "chain stitched" where you sew several pieces at one time, it saves on thread and time. In the third picture you can see where I began my chain stitch with a piece of scrap fabric. This keeps your machine from eating your material. I also saw on a video today where she used her seam ripper to hold corners down before they go through the feed dogs. This also keeps those "dogs" from "eating " your material. LOL (I know corny, just indulge me and smile)
Here it is, the finished block!
I will start making this a monthly thing as I learn new things from these quilt blocks.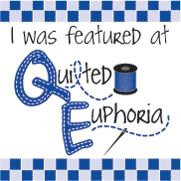 Happy quilting!
Missy