My main goal for February is a Cat block swap from Treadleon.net. We are making these blocks: http://vickisvintagestitches.blogspot.com/2014/01/treadle-on-cat-block-exchange.html
There are two different blocks. My goal is to make one set of ten, if I make two sets that will be a bonus, because then I will get 20 blocks back instead of ten! Here are my fabrics. The peacock blue is my background, I just love it!
I got this navy "I love cats" material for half off, there are 4 yards and I paid $7 for it!
but I'm not sure I have enough of the black and white calico cats. I should have bought several yards of it! I love that pregnant calico! I used some of this fabric in my
barn quilt
too!
The blocks need to be mailed by March 3, I hope I am doing this right. If I understand correctly, each set of ten has to have different fabrics, and I think needs to be the same block? This is my first block swap, so I hope I have it figured out right!
I also need to finish this month's BOM from Quilt Doodle Doodles. It is a really cute log cabin block, you can
see it here!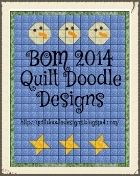 Here are the fabric I pulled for the cabin, 3 browns for the cabin, a yellow for the window, black for the roof, and tan for the door. I'm open to suggestions!
And blue snowy for the background, which Pippi was helping me iron!
So that is my goal, ten cat blocks and cabin block from my BOM!
What are your goals for this month?
Missy