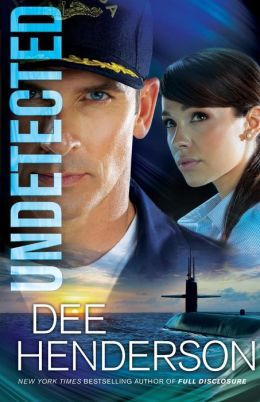 I just finished a book by one of my favorite authors!
Undetected
by Dee Henderson. It is a really good book! I think I have almost everyone of her books! She is a contemporary author that always has some kind of suspense and romance in it.
Undetected
is about Commander Mark Bishop. He is in the Navy but has a very special job as captain of a Boomer submarine. I really learned a lot about submarines and their role in peace time from this book.
The book is also about super smart Gina Gray. Her brother is also a submarine captain which has her very interested in how to keep submarines safer. She developed cross sonar to help and has many more ideas. I learned a lot about sonar and how submarines "see" under water with it.
This is a very good book and I would recommend reading it but it was not one of my favorites of her books. The developing relationship between Gina and Mark was very "wordy" and exploring emotions through conversation through the entire book. I just don't really think people really talk that way unless they are psychiatrists. But I could be wrong.
Here is a trailer from youtube about the book. This scene is taken from the book.
There are characters from
Unspoken
in this book, but you do not need to read that book to understand this one.
Here is chapter one: http://www.deehenderson.com/undetected.html
I hope you enjoy the book!
Missy
I got this book from Bethany House publishers to write a review and give my honest opinion.